RELIABLE & PROFESSIONAL COMMERCIAL FLOOR CLEANING
ServiceMaster Clean brings 70 years of experience, research and innovation in the commercial cleaning services industry. As professional commercial floor cleaners, we have the expertise and resources to provide our customers with outstanding commercial floor cleaning services for all types and sizes of commercial and industrial facilities including office buildings, hospitals, schools, high-tech facilities, and more.
Each type of commercial hard-surface flooring requires specific care to maintain its original brightness and surface texture. Whether your floors are vinyl, ceramic, marble, quarry, tile, concrete or made of other materials, you can depend on ServiceMaster Clean to create a custom commercial floor cleaning service plan to suit your particular facility's requirements and budget.
ServiceMaster Clean uses the most advanced and innovative floor cleaning products, equipment and methods available in the industry to protect and prolong the lifespan of your commercial flooring.
You can rely on ServiceMaster Clean to keep your hard-surface floors long-lasting and looking their best. Maximize your investment with a hard-surface floor cleaning program from the experts at ServiceMaster Clean.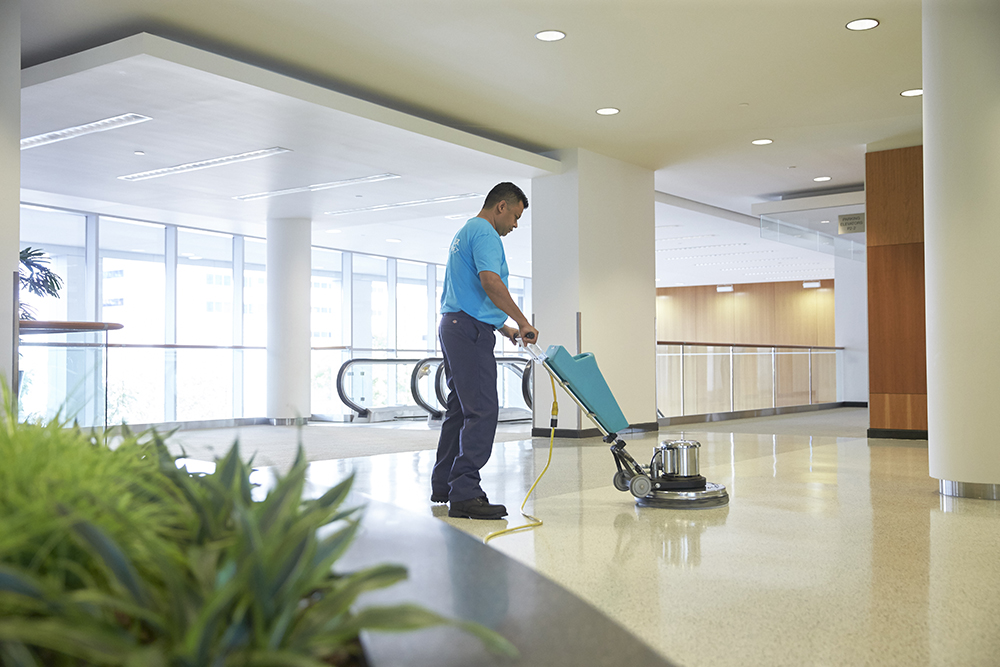 BENEFITS OF OUR HARD-SURFACE COMMERCIAL FLOOR CLEANING SERVICES
Helps provide clean, safe and healthy environment for employees, customers and guests
Improves slip resistance on hard-surface flooring to ensure safety
Utilizes the most current innovations in hard-surface floor care
Protects your commercial hard floor investment and avoids premature replacement
Offers advanced hard-surface floor restoration processes and products
Maintains your facility's best professional appearance
Maintaining clean and well cared for hard-surface floors not only enhances the professional appearance of any business or organization, it also provides a safer indoor environment with greater slip-resistance to ensure safety for building occupants.
COMMERCIAL FLOOR CLEANING IMPROVES WORKPLACE HEALTH AND SAFETY
Clean and well-maintained commercial hard-surface floors provide a safer indoor environment with greater slip and fall protection. Using the proper cleaning and finishing products, equipment and methods is critical for maintaining the slip-resistance rating of the flooring in your building, office or other facility.
Our professional commercial floor cleaning services include:
Cleaning and sanitizing
Scrubbing
Stripping and Waxing
Re-coating
Sealing
Tile & Grout Cleaning and Grout Colouring
High speed burnishing
Did You Know?
Can we contact you outside office hours in case of an emergency?
ServiceMaster Clean will provide you with a live-answer, emergency phone number so that we can help you with any emergencies that may arise 24 hours a day, 365 days a year.
Will the changeover to ServiceMaster Clean be smooth?
With 70 years of commercial cleaning experience, we have perfected the transition of service from your previous cleaning vendor. With thorough planning; we will make the changeover a seamless process. The only difference you will notice is the obvious improvement in service and standards.
Will we always have the same cleaner?
We strive to maintain continuity as this helps build a healthy rapport and trust with our janitorial services customers along with added security.