People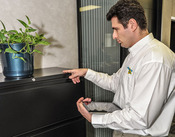 A highly motivated extension of your staff
At ServiceMaster Clean, our personnel work as an extension of your staff, taking pride in the job and completing your task list the way you like, every time.
We are committed to monitoring each project's progress, ensuring your satisfaction and fuelling a continuous cycle of performance improvement.
ServiceMaster Clean promotes active communication with our customers, clarifying your cleaning needs and providing a degree of responsiveness unparalleled in the industry.
On-site job logs provide ongoing documentation of your requests and our responses.

Regular inspections ensure the highest level of clean and provide constant feedback.

ServiceMaster Clean professionals are easily accessible should a special need arise.
On-site supervisors frequently and closely monitor the quality of our work to make sure your task list is completed the same way every time.
ServiceMaster Clean has a comprehensive screening process ensures that your business will be serviced by the most trustworthy and qualified people.
Training is always ongoing and the training methods themselves are also under constant development as ServiceMaster Clean takes advantage of the latest innovations to keep your business looking its best.
---
As an industry leader in commercial cleaning, ServiceMaster Clean is committed to the ongoing development of innovative cleaning procedures. Whether it's using environmentally healthy practices or extending the life of your carpet and other floor surfaces, we understand the power of a clean and healthy work environment. Not only that, but we listen to your unique needs and can provide a wide range of specialty cleaning services.
ServiceMaster Clean, utilizes the most advanced technologies to continually improve our service and our communication with our customers.
Cutting-edge technology means superior service. When home and business owners experience disaster, anxiety naturally runs high and the safety and restoration of their personal items take on extreme importance. We want customers to feel confident about the safety and security of their personal items. That is why we have raised the bar by providing proprietary technology to automate data collection and communications in the field. These standards are unsurpassed in the industry and include training, service protocols, system integration and claim documentation.
TellServiceMaster (Customer satisfaction survey system)
At ServiceMaster Clean, we are committed to being our very best, so we ask you, our customer, to tell us regularly how we are doing. Our TellServiceMaster system, powered by Listen 360, uses the latest technology to get your feedback on our performance. The system is designed so that we can review individual customer feedback as well as our overall performance.
ServiceLink
ServiceLink is a janitorial service inspection, communication and tracking system that ServiceMaster Clean provides to our customers. ServiceLink uses the latest technology to provide effective quality control. The ServiceLink system allows you to track services performed, simplify communication between our team and yours through email and text messaging and enhance the overall cleanliness of your building.
Products
ServiceMaster CleanSM has developed proprietary products to gently, but effectively clean your facility's carpet, hard-surface floor, upholstery and furniture, ensuring lasting beauty and a professional appearance.
Cleaning for a Healthier Work Environment
We take our commitment to the environment seriously and have developed specific principles and cleaning products to guide us in serving our customers. ServiceMaster Clean Green For® products are designed for minimal environmental impact. They are free of ingredients such as perfumes and VOCs.
Green For® products carry one or more certifications from third party organizations — that is organizations who are in the business of testing and verifying claims made regarding the product.
Green For® products are safe for all occupants in the workplace, including individuals with asthma and chemical hypersensitivity.